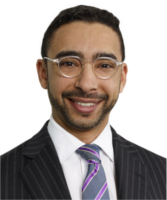 On this episode, we're learning about special situations law with Walied Soliman, the Canadian chair of Norton Rose!
Topics: hostile takeovers; proxy battles; and other current trends in corporate law
Full Episode (30:25) Download

1. Hostile Takeovers (11:44) Download
– Aurora/CanniMed: Canadian securities regulators provide guidance on takeover bids in Canada

2. Proxy Battles (9:41) Download
– Proxy fights and hostile takeovers in Canada (Webcast)


3. Current Trends in Corporate Law (8:51) Download
– 5 Key Developments in Canadian Corporate Governance Rules in 2017

About the Guest:
Walied Soliman is chair of Norton Rose Fulbright Canada and co-chair of our Canadian special situations team, which encompasses Canada's leading hostile M&A, shareholder activism and complex reorganization transactions. Over the past several years, Mr. Soliman has been involved in almost every major proxy battle in Canada, acting for both issuers and activists. He is widely regarded as one of the leading special situations practitioners in Canada. In addition, his practice focuses on mergers and acquisitions, restructurings, financings, corporate governance and structured products.
Mr. Soliman was the only lawyer recognized in the Globe and Mail's Report on Business Magazine Power 50 list for 2017; designated as a "Star Lawyer" by Acritas in 2017 for ranking in the top 28 lawyers globally (over 5,000 lawyers) as selected by a panel of over 3,000 senior in-house counsel; was ranked as a leading Canadian corporate lawyer by both Chambers Canada and Lexpert Canada since 2016; was named one of the 25 most influential lawyers in Canada by Canadian Lawyer magazine in 2014; ranked by Best Lawyers in Canada since 2013; and was ranked as one of the Top 40 Lawyers under 40 in Canada by Lexpert magazine in 2009. Among other philanthropic endeavours, Mr. Soliman is a board member of the Toronto SickKids Hospital Foundation. ‎