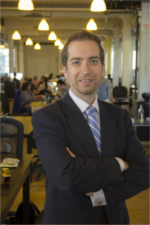 On Episode 9 of Lawyered, we discuss the legal issues facing enterpreneurs, with social enterprise lawyer, Robert Wakulat.
Topics include: crowdfunding, non-profit corporations and social enterprises.
Full Episode (34:16) DOWNLOAD

1. Kickstarting the Crowdfunding Campaign (12:37) DOWNLOAD
– Introduction of Proposed Prospectus Exemptions and Proposed Reports of Exempt Distribution in Ontario

2. Fixing the Non-Profit Sector (9:38) DOWNLOAD
– Not-for Profit Corporations Act (S.C. 2009, c. 23)

3. The Social Enterprise (13:33) DOWNLOAD
– Ontario Social Enterprise Panel Findings and Recommendations Report

About the Guest:
Robert Wakulat is a business lawyer whose practice focuses on working with social innovators and entrepreneurs. Robert specializes in providing practical business and governance solutions to a wide range of organizations operating in the social enterprise sector.
Robert's engagement in the entrepreneural space extends to his role as a mentor in OCAD University's Imagination Catalyst program.
Before co-founding Wakulat Dhirani LLP, Robert operated his own practice and was a legal professional with Japan's largest corporate law firm Nishimura & Asahi.
Wakulat Dhirani LLP
robert@wakulatdhirani.com