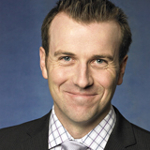 It's the season finale and Episode 10 of Lawyered! This week, we sit down with intellectual property lawyer, Geoff Mowatt. Topics include: e-cigarettes, biosimilar drugs and the promise of the patent.
Full Episode (36:19) Download Transcript
1. E-Cigarettes: Up in Smoke? (10:52) Download Transcript
– 'The Burning Debate over Electronic Cigarettes' – Geoff Mowatt and Nikolas Purcell

2. Drug Wars: Biologics and Biosimilars (13:57) Download Transcript
–  Abbvie Corporation v. Janssen Inc. 2014 FC 55

3. The Promise of the Patent (13:24) Download Transcript
– Eli Lilly Canada Inc. v. Novopharm Limited 2011 FC 1288
– Novopharm Limited v. Eli Lilly Canada Inc.  2010 FC 915


About the Guest:
Geoff Mowatt is a partner with Dimock Stratton in Toronto, and is a certified Specialist in Patent Law. His practice includes all areas of intellectual property law, with a focus on patent and trademark litigation—including pharmaceutical litigation.
Geoff has experience in all aspects of intellectual property litigation and has appeared before the Ontario Court, Federal Court, and Federal Court of Appeal.  He has worked with counsel from around the world, to co-ordinate the Canadian part of multi-jurisdictional lawsuits.
Geoff is a co-author of a chapter of the IP Benchbook for Patents, an electronic textbook for the judiciary of the Federal Court and Federal Court of Appeal judiciary.
He sits on the Ontario Bar Association Professional Development Committee, the Civil Litigation Executive and is the Chair of the Canadian Bar Association Biotechnology Committee.