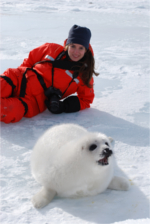 On Episode 8 of Lawyered, we're speaking with animal rights lawyer, Camille Labchuk.
Topics include: animal charter rights, dog liability and "humane-washing".
Full Episode (30:37) DOWNLOAD

1. Charter of Rights: Animal Edition (13:00) DOWNLOAD
– Animal Justice's proposed "Animal Charter of Rights"

2. Dog Orders (9:41) DOWNLOAD
– Information about the Health Services and Review Board
– "Doberman ordered euthanized"

3. 'Humane Washing' and Advertising (10:17) DOWNLOAD

About the Guest:
Camille Labchuk has worked to advance the interests of animals for over a decade. As a lawyer, Camille represents individuals and organizations in animal law cases, defends animal advocates, and seeks out litigation that enhances the interests of animals. As an advocate, Camille's work includes documenting the commercial seal kill on Canada's East Coast, exposing cruelty in farming, and campaigns against trophy hunting, circuses, zoos, aquariums, shark finning, puppy mills, and more. She is a frequent lecturer and media commentator on animal issues.
Animal Justice Canada
Camille's Website
camille@labchuklaw.ca