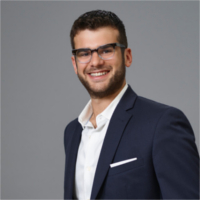 We're kicking off Season 6 with a legal deep-dive into the emerging world of competitive video gaming, featuring esports lawyer, Josh Marcus
Topics: esports athletes as independent contractors vs employees; contractual issues for esports player agreements; and choice(s) of law for the esports landscape.
Full Episode (34:22) Download

1. ESports Athletes: Employees or Independent Contractors? (13:06) Download
– Bill C-81 – Accessible Canada Act 
– How to Make Billions in E-Sports", The New York Times (Feb. 18, 2020)

2. Negotiating an Esports Player Contract(14:48) Download
– "Faze Clan and Tfue's legal dispute could reshape e-sports and YouTube contracts forever", The Verge (May 20, 2019)


3. Choice(s) of Law in the Esports Landscape (9:54) Download


About the Guest:
Josh Marcus is the Managing Partner and Co-Founder of MKM Law, Canada's first law firm and management agency dedicated to esports and content creation.
Josh regularly represents organizations and individuals across the esports industry on topics related to business strategy and implementation, sponsorship and partnership arrangements, monetization strategies, and determining paths to profitability.
In his capacity as Managing Partner, Josh counsels his esports clients on legal issues ranging from corporate governance, brand protection, sponsorship and player negotiations, and immigration. His practice is a blend of advising startups and industry investors in their growth and acquisition of esports organizations, and representing his clients' interests through litigation.
Josh frequently appears on various esports talk shows, and speaks at guest lectures and conferences across North America. He is based in Toronto, but travels throughout Canada, the United States, and Europe regularly.