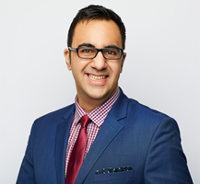 In honour of hitting the 50-episode mark, we're flipping the script and putting the LawyerEd host, Husein Panju, in the guest seat to chat about elections, lobbying and other aspects of political law.
Topics: the federal lobbyists' code of conduct; new changes for political contributions; and curbing foreign meddling in our elections.
This episode also features Sean Robichaud (from the "Of Counsel" podcast) who sits in as guest host.
Full Episode (37:33) Download

1. Lobbying and the Lobbyists' Code of Conduct (11:30) Download
– Lobbying Act (R.S.C., 1985, c. 44 (4th Supp.))
– "Guidance – Lobbyists' Code of Conduct (Office of the Commissioner of Lobbying of Canada)

2. Ontario'S Election Finance Rules – Individuals vs. Corporations (8:25) Download
– Bill 57, Restoring Trust, Transparency and Accountability Act, 2018 (Sched. 13)

3. Curbing Foreign Meddling in our Federal Elections (9:56) Download
– Bill C-76,  Elections Modernization Act


About the Guest:
Husein Panju is an in-house counsel and government relations consultant at one of Canada's top public affairs firms, StrategyCorp Inc. As in-house legal counsel, he helps a fast-paced team of 60+ personnel remain compliant and competitive by providing a broad range of legal services (e.g. drafting contractual agreements, issuing risk management advice, developing internal policies). As a public affairs consultant, he draws on his deep research skills and policy understanding to develop and implement strategies for clients to succeed, primarily in the area of government relations.
Before joining StrategyCorp, he served for five years in the public sector litigating and advising for every level of Canadian government as in-house legal counsel, including the federal Department of Justice; the Ontario Ministry of Municipal Affairs and Housing; the Ontario Ministry of the Attorney-General; and the cities of Mississauga and Hamilton. He has successfully litigated in hundreds of proceedings at all levels of Ontario trial and appellate courts, and before several tribunals, including the Ontario Municipal Board. Husein has also worked directly with politicians and staff to develop creative solutions to further their policy mandates. His areas of specialized expertise include: corporate/commercial, municipal, environmental, criminal and administrative law
Outside of work, he hosts and produces the podcast series, LAWYERED, on which top Canadian lawyers take a critical look at current legal issues.
Husein's Bio
Husein's E-Mail Address
About the Interviewer:
Sean Robichaud is a criminal defense lawyer in Toronto and founder of the firm, Robichauds.
Over his career, Mr. Robichaud has successfully defended and obtained acquittal verdicts for individuals charged with offences ranging from possession of marijuana to first-degree murder. The primary focus of the practice and his interest is in areas of sexual assault, domestic violence, homicide, impaired driving, and drug offences / regulation. Prior to starting his firm, Sean was an associate and then Partner with Pinkofskys in Toronto.
Mr. Robichaud is a Certified Specialist in criminal law and is holds an LLM from the Osgoode Hall Specialization Program in Criminal Law and Procedure.
Sean Robichaud is a member in good standing with the Law Society of Ontario, and a number of other organizations, including the Advocate's Society, The Canadian Bar Association, The Toronto Lawyers' Association, The York Region Law Association and the Criminal Lawyers Association. Mr. Robichaud has also testified as an expert witness on criminal law matters before the Senate of Canada.
Sean was also appointed to sit on the Board of Directors for Legal Aid Ontario for 2019-2021. Sean is also hosts a podcast of his own, called "Of Counsel" where he interviews remarkable lawyers discussing finer points of advocacy, trial strategy, practice insights, and points of interest in contemporary legal issues. And you can check out his episodes at robichaudlaw.ca/podcast or on your favourite podcast app.
Sean's Bio
Brendon's E-Mail Address
Sean's Podcast – "Of Counsel"