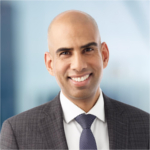 On this episode, we're joined by disability lawyer, Brendon Pooran, to chat about accessibility and other legal issues facing persons with disabilities!
Topics: the Accessible Canada Act; Henson trusts; and the supported decision-making framework
Full Episode (33:57) Download

1. Canada's New Federal Accessibility Legislation (12:19) Download
– Bill C-81 – Accessible Canada Act 

2. Henson Trusts and Social Benefits (11:06) Download
– S.A. v. Metro Vancouver Housing Corp., 2019 SCC 4

3. The Supported Decision-Making Framework (9:54) Download
– "Legal Capacity, Decision-making and Guardianship", Law Commission of Ontario (March 2017)
– "A Statutory Framework for the Right to Legal Capacity and Supported Decision Making", Canadian Association for Community Living (February 2014)

About the Guest:
Brendon Pooran is a founding Partner at PooranLaw Professional Corporation where he practices in the areas of disability law, estate planning and corporate law for not-for-profit and charitable organizations. In addition to practicing law, Brendon teaches Critical Disability Law at York University, is the Past-President of Community Living York South and is a founding director of both PLAN Toronto (now Partners for Planning) and Microboards Ontario. He is also a Senior Lawyer Member on the Ontario Consent and Capacity Board.
PooranLaw is comprised of a group of like-minded lawyers who have devoted the majority of their personal and professional lives to promoting inclusion, enhancing the lives of people with disabilities and working to improve the greater social good. Much of work involves supporting law and policy reform initiatives affecting the disability community in the areas of income support, legal capacity, housing and accessibility.