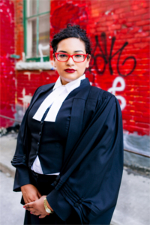 As we pass the half-year mark of legalization, we're sitting down with cannabis lawyer, Caryma Sa'd, to chat about the ins and outs of cannabis law!
Topics: new impaired driving laws; proposed amnesty for cannabis possession offences; and Ontario's retail cannabis landscape.
Full Episode (34:10) Download


1.Bill C-46 – New Impaired Driving Offences (10:51) Download
– Bill C-46:An Act to amend the Criminal Code (offences relating to conveyances) and to make consequential amendments to other Acts

2. Pre-Legalization Possession of Cannabis: Amnesty or Expungement? Download
– Bill C-93: An Act to provide no-cost, expedited record suspensions for simple possession of cannabis
3. Ontario's Retail Cannabis Landscape (11:04) Download
– Cannabis retail store owners/operators (AGCO)
– Private licensing and regulation (AGCO)

About the Guest:
Caryma Sa'd is a lawyer practicing in the areas of criminal and landlord/tenant law. She has a budding cannabis practice. Her firm works closely with cannabis activists and entrepreneurs, as well as individual patients and recreational consumers.
An educator at heart, Caryma is frequently called upon by the media as a trusted source for their news stories. Her cases and legal commentary have been featured by reputable media outlets including Associated Press, BNN Bloomberg, CBC, Canadian Lawyer, CityNews Toronto, CP24, CTV, Global Toronto, Globe and Mail, Law Times, Ming Pao, Sing Tao, StarMetro Vancouver, Toronto Star, and VICE News.
Caryma articled at a top-tier Bay Street litigation boutique where she had the opportunity to work under the direct tutelage of some of Canada's leading litigators. She was selected for a secondment to one of the Big Five banks.
Caryma graduated cum laude from the University of Ottawa in 2015. She was ranked 1st out of 265 students in English Common Law during her first year, and received several prizes for academic excellence. She was awarded an Ontario Graduate Scholarship in support of her research on the intersection between law, identity politics, and gender-based violence.
Prior to attending law school, Caryma interned with a prominent human rights organization in India. She wrote and illustrated a simplified guide to domestic violence legislation, which has since been circulated to thousands of at-risk women across the country.
Caryma's Full Bio
Caryma's Email Address
Caryma's Twitter Handle