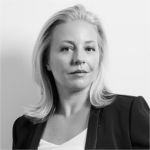 This week, we're talking family law with Heather Hansen, a partner with Martha McCarthy & Company in Toronto.
Topics include: social media in family law, grandparents' roles in access and custody, and secret recordings in family law litigation.
Full Episode (34:45) Download
1. Social Media in Family Law (12:08) Download

– Leskun v. Leskun, 2006 SCC 25


2. Grandparents, Custody and Access (12:20) Download


3. Secret Recordings (11:27) Download

About the Guest:
Heather Hansen is a partner at Martha McCarthy & Company LLP in Toronto and is a Certified Specialist (C.S.) in Family Law by the Law Society of Upper Canada. Heather represents and advises clients on all issues related to divorce, custody and access, spousal and child support, division of property, separation agreements, domestic contracts, religious marriage contracts, and cross-border/international family law issues (including Hague Convention matters). She regularly appears before all levels of court in the Province of Ontario. She also represents clients in complex negotiations, mediation and arbitration proceedings. Heather teaches trial advocacy at the Faculty of Law at University of Toronto. She is also a frequent speaker at continuing education sessions and has written a number of articles and chapters on topics ranging from evidence in family law, to estates and trust matters. Heather also represents children in domestic and child protection matters as a member of the panel for the Ontario Government's Office of the Children's Lawyer. She sat on the Young Advocates' Society Standing Committee for the 2012-2015 term, serves on the board of College Montrose Children's Place and is a participant member of the Crown Wardship No-Access Pilot Project and the Child Advocacy Project.