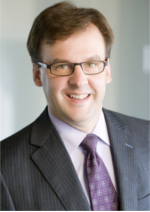 On episode 4 of Lawyered, we're chatting with the 2015 Municipal Lawyer of the year, Chris Barnett.
Topics include: the Elliot Lake mall collapse, Ontario's 10-year review of provincial land plans, and how one farmer sued his town for over $100,000.
Full Episode (29:38) DOWNLOAD
1. When Malls Collapse (10:15) DOWNLOAD
– Report of Elliot Lake Inquiry
2. 10-Year Reviews: What's the Plan? (11:10) DOWNLOAD
– Land Use Planning Review, Min. of Municipal Affairs and Housing
– Growth Plan for the Greater Golden Horseshoe
– Niagara Escarpment Plan>
– Oak Ridges Moraine Conservation Plan
– Greenbelt Plan


3. Salt in the Wound: Municipal Liability (10:33) DOWNLOAD
– Steadman v. Lambton (County) 2015 ONSC 101
About the Guest:
Chris Barnett is a partner in Osler's Real Estate Group and practices in the areas of administrative and regulatory law, with a focus on municipal and planning advice and environmental approvals. He is recognized in the 2019 Lexpert/ALM 500 Leading 500 Lawyers in Canada.
He specializes in providing clients in both the public and private sectors with strategic advice on co-ordinating and addressing the various levels of approvals required for complex projects. Chris advises clients on a broad range of matters, including heritage issues, growth management issues, cultural heritage, parkland dedication/valuations, employment land and aggregate resource policies, as well as ward boundary reviews.
He also advises large landowner groups and individual clients on development charges and cost sharing matters, environmental assessment processes and approvals and the implications of provincial policies and initiatives.
Chris appears regularly before the Local Planning Appeal Tribunal and municipal councils, and has appeared before the Environmental Review Tribunal. He also advises clients on potential remedies in the courts, representing both the private sector and municipalities in bringing and responding to applications for judicial review of municipal and government decisions. He is a regular speaker at continuing legal education events, and has provided annual case law updates to the Ontario Bar Association for over 15 years.