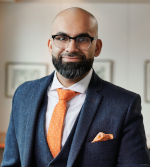 It's our season 8 premiere, and we're chatting about freedom of expression issues with Abbas Kassam, from the Ryerson Centre for Free Expression!
Topics: Toronto's council reconfiguration, Quebec comedy at the SCC, anti-SLAPP motions and more.

This program contains 45 minutes of substantive content for the Law Society of Ontario's CPD requirements.
Full Episode (54:57) Download      Transcript
⚫ How did the reconfiguration of Toronto's city council impact the rights of political speech? (5:46)
⚫ How does the right to dignity interact with the right to free expression in the context of comedy? (15:14)
⚫ How are courts dealing with anti-SLAPP motions? (25:56)
⚫ Our Ask-Me-Anything segment, featuring questions submitted by patrons of the Lawyered community (36:36)
🔵 What role do comedians have in forming the limits of freedom of expression? (37:25)
🔵 Should there be any differences in how speech laws apply in the digital versus non-digital space? (41:01)
🔵 Do you anticipate that the Freedom Convoy (and similar movements) will change the conversation /laws regarding freedom of expression? (43:33)
🔵 What is it that keeps you engaged in freedom of expression projects? (47:38)

1. Political Speech and the Reshaping of Toronto City Council (12:38) Download


– Toronto (City) v. Ontario (Attorney General), 2021 SCC 34

2. Quebec, Comedy and Freedom of Expression (13:51) Download

– Ward v. Quebec (Commission des droits de la personne et des droits de la jeunesse), 2021 SCC 43

3. Anti-SLAPP Orders (13:48) Download

– Neufeld v. Hansman, 2021 BCCA 222

4. Ask-Me-Anything: Freedom of Expression Law (18:12) Download

🔵 What role do comedians have in forming the limits of freedom of expression?
🔵 Should there be any differences in how speech laws apply in the digital versus non-digital space? 
🔵 Do you anticipate that the Freedom Convoy (and similar movements) will change the conversation /laws regarding freedom of expression?
🔵 What is it that keeps you engaged in freedom of expression projects? 

About the Guest:

Abbas Kassam is a Toronto-based lawyer practicing in intellectual property litigation and privacy. He graduated with a law degree from the University of Toronto and was previously a judicial law clerk at the Federal Court. Abbas is passionate about freedom of expression, whistleblowing and accountability issues. He has been involved in Ryerson University's Centre for Free Expression since its inception in 2016.

Primarily, he works on various ongoing projects including identifying and assisting with litigation that falls within the Centre for Free Expression's mandate. He frequently blogs about freedom of expression issues on the Centre for Free Expression's website. Abbas was co-counsel to an intervenor in Toronto Star v. AG Ontario, which dealt with applying the open court principle to administrative tribunals in Ontario and R. v. Vice Media Canada Inc., which dealt with journalist-source protections.

Abbas's main goal growing up was to be featured on the Lawyered Podcast with Husein Panju.

Ryerson Centre for Free Expression
Abbas's LinkedIn Profile