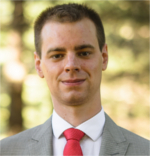 On episode 2 of Lawyered, we sit down with technology lawyer, Addison Cameron-Huff. Topics include: statistics behind the Supreme Court, anti-spam legislation, and the legal side of bitcoin.
Full Episode (29:04) DOWNLOAD

1. Behind the Numbers of the Supreme Court of Canada (10:46) DOWNLOAD
– Addison's initial blog post, "4261 Cases Parsed and Analysed"
2. Getting Rid of E-Mail Spam (11:12) DOWNLOAD
– Canada's Anti-Spam Legislation


3. The Legal Side of Bitcoin (9:31) DOWNLOAD
– Bitcoin Alliance of Canada
– Decentral
About the Guest:
Addison Cameron-Huff is an independent technology lawyer formerly with McCarthy Tetrault/BlackBerry. Over the past year Mr. Cameron-Huff's practice has been focussed on the growing Bitcoin industry in Canada. Before starting his legal career Mr. Cameron-Huff was a web developer and has won awards at competitions held by PayPal and Yahoo!. His clients are primarily software companies who need legal assistance from someone who understands the technical details of Bitcoin.
www.cameronhuff.com
addison@cameronhuff.com