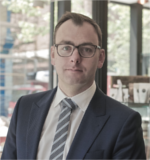 It's the Season 3 premiere, and we're speaking with Glenford Jameson about the hottest issues in food law.
Topics: calorie counts at restaurants, an LCBO constitutional challenge, and food fraud prosecutions
Full Episode (38:06) Download

1. Counting Calories (13:03) Download
– Healthy Menu Choices Act, 2015,  S.O. 2015, c. 7

2. A Spirited Constitutional Challenge (14:16) Download
– Toronto Distillery Company Ltd. v. Ontario (Alcohol and Gaming Commission), 2016 ONCA 960
– Toronto Distillery Company Ltd. v Ontario (Alcohol and Gaming Commission of Ontario), 2016 ONSC 2202


3. Prosecuting Food Fraud (11:24) Download
– "Ontario supplier charged with mislabelling chicken as organic"
– "Mucci Farms To Pay Up For Selling 'Canadian' Produce Grown In Mexico"

About the Guest:
Glenford Jameson manages a practice focused primarily on corporate commercial and transactional matters, including mergers and acquisitions, private equity financing, and a broad range of business law matters. He has significant industry experience in the food sector, specifically respecting organizations that encounter a high degree of provincial/federal regulation and organizations that seek to challenge the regulatory regimes under which food is produced and sold in Ontario. His clients include start-ups, not-for-profits, charitable entities, and small and medium sized private enterprises.
Glenford also advises organizations on structure and organization, corporate governance, regulatory requirements, and day-to-day issues encountered by professionals in the food sector.
Glenford is highly active in the food policy / food security sector in Ontario, through his positions as director, advisor, or executive member of various not-for-profits and charities. He frequently volunteers with organizations that engage with food policy issues and is particularly interested by the problems created through the intersection of food, technology, and innovation. He brings this passion to his practice, finding solutions to legal problems faced by his clients.
Prior to founding G.S. Jameson & Company, Glenford worked at a prominent mid-size business law firm in Toronto.
G.S. Jameson & Website
Glenford's E-Mail Address
"Welcome to the Food Court" Podcast