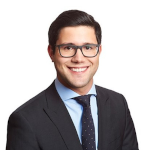 In our latest bonus episode of Lawyered Unplugged, we're speaking with Avi Weiss (founder of Counselwell and lawyer at Coinsquare) about the lifestyle of the in-house counsel. In addition to tips for in-house counsel, this episode takes a deep-dive into personal branding, imposter syndrome and more!
Episode Preview (31:08) Download

NOTE: While the episode preview above is available for everyone, the full 1-hour version of this bonus episode is available exclusively for members of the Lawyered Patreon community. If you want to hear all of our bonus episodes (and unlock more bonus content), check out our Patreon page HERE!
In the full 1-hour episode, you'll hear Avi tackle a number of topics, including:
What are some of the rewards and the challenges that come with working for an in-house legal department, especially for a smaller one?
How can in-house lawyers navigate the relationship between providing legal advice and managing the broader corporate strategy?
What is the importance of personal branding for in-house lawyers?
How can lawyers navigate the ethical issues that impact their day-to-day work?
What role do in-house counsel play in terms of making legal information accessible?
About the Guest:
Avi Weiss is a legal counsel for Coinsquare, a leading Canadian cryptocurrency exchange, where he advises the company on a variety of matters, including privacy, corporate/commercial, marketing & advertising, and employment. Avi has prior fintech experience at Wealthsimple, and was previously an associate at Blake, Cassels & Graydon LLP.
Avi is also the founder of Counselwell, a company dedicated to helping in-house lawyers develop their professional careers through the offering of helpful resources, such as customized online courses on critical legal and business topics, a job board exclusively for in-house counsel, and other resources launching soon.